I'm going to share simple app to move all your apps to External SD Card Storage to Backup the Apps data.
Smartphone is all about Apps. Is n't?  Social Network Facebook CEO Zuckerberg also said the same thing in a different angle, "Today our phones are designed around apps, not people – we want to flip that around, using Facebook Home". This statement concludes that apps are the backbone of any smartphone.
So it is common that, every Android smartphone user will install many Android apps for all their needs. When you have several apps installed, it can be uncomfortable to flip through the many pages of App Drawer to get your app. Many apps there are in Google Play to Simplify this tasks and simplify the process.
Many Android users want to migrate the Android apps to SD Card storage to save space in Internal Storage. However, they don't know how to move the Apps from Internal storage to SD Card. Here,I've found the great app that will solve the issue and move all the Android apps to Micro SD card.
AppWererabbit is one of these app, but it is much simpler and has easy to use interface.
How to Move Apps to External SD Card Storage Memory Card in Android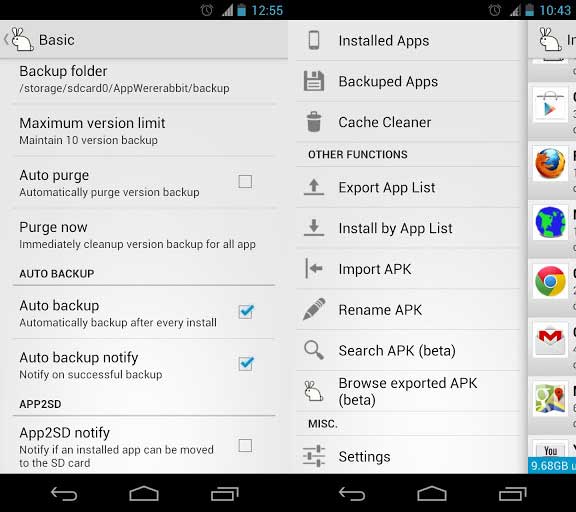 What is it and How it will help
AppWererabbit is a set of tools developed to help you manage app and apk files on your smartphone and tablet.
App Wererabbit has come up with most essential tools such as,
 App Backup & Restore
 App2SD (Move app to SD)
 App Cache Cleaner
 App Sharer
Apk Installer
 ApkRenamer
Just install this app and it will do the magic automatically for you like temp memory cleaning and optimizing your android phone. App backup and restore tool, backup your apps automatically and even when you install new apps it will be backed up automatically. It allows fast app re-install without the needs of Play Store which is quite useful when your date has been wiped out  when you reset your phone. App backup  can only store your apk file, and it doesn't back up settings and data of the apps. You can store the backup files in the cloud using Dropbox.
App2SD tool has the ability to identify apps that support App2SD, and facilitate the moving process. In addition, it will send the notification If the installed apps support App2SD function.
Appcache cleaner tool gives the basic optimization and cleaning support for your Android device. Just One tab will clear all App cache files in your smartphone. This tool also has stunning options that will help you the clear app cache at specified interval and as well as When your device low on internal memory storage. Also, you can clear the app cache for a particular app like Windows CCleaner.
This app also provides features like bulk apk renamer, batch app installing and uninstalling, Easy access to app info like App2SD, cache, permissions.
Download
In addition to this list of features, we point out that the application is free of charge and free of advertising.  If you want to try it, just click the download link below.
Price : free
Size : 314k
Download this app from Play Store