Microsoft has released the Windows 8 with many new features and enhancements. However, the classical features like start menu, Aero Glass transparence and som other have been removed from the Windows 8 Operating System. Microsoft has removed those features and introduced the start screen instead of Start menu. Metro styled User interface Themes have been incorporated in windows 8. Also, the Aero Glass transparency feature was removed from Windows 8.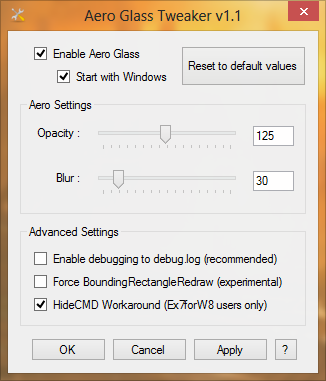 However many developers have already created many tools and utilities to get those removed features in Windows 8. We have already covered how to get full Aero glass transparency in Windows 8 using very small 14 Kb tool called 'Win Aero'.
Note: you need WinAero tool before achieving Customization (download it using above link)
In this We will show you how to customize the Aero glass effects like opacity and blur feature in Windows 8. We can achieve this customization feature using another tool called 'AGTweaker (Aero Glass Tweaker)'.
AG Tweaker is a small portable Application, so you do not require installation. Just Download the AG Tweaker and run the tool. It has very simple, minimal user Interface. You can easily change the settings of the Agtweaker. It will set its own default Opaque and Blur Values(That is set by WinAero) when you start the application for the first time. Just move the sliders in each blur and opaque rows to get your desired Aero Glass effect in Windows 8 OS.
Key Features of Windows 8 Aero Glass Tweaker
Customize Blur and Transparency
Customize experimental settings
Load Aero Glass on Windows Startup
Automatically skip UAC prompts or dialogs on Windows Startup
Automatically hide the CMD window (Only works for Ex7forW8 users)
Command-Line usage allowing to change settings without loading the GUI
AGTweaker supports the both 32-bit and 64-bit versions of Windows 8.
Read all our Awesome Windows 8 Articles here