Now Digg Reader is available to all Internet Users, just few days before the close of Google Reader. After three months of Work, Digg Reader is live to all Feed users. After the Announcement of Google Reader demise, many companies are trying to make the new Google Reader Alternative to fill up the Big space of Big G. So far Digg is the biggest Internet has come up with new Reader service. Of course! There are many new Small startups are doing their best like The Old Reader.
According to the Digg Blog post, their crawling over 3.3 million feeds. They're now up to 4.5 million. That's a lot of data –, and they are growing quickly.
Move to Google Reader to Digg Reader
What perfect timing! It's a weekend, Digg Reader is available to you to Migrate your Google Reader to it before the death of Reader.  Currently, it is available on the web and as an iOS app. Android App is coming soon. Before that iPhone users can test the Digg Reader app.
Digg Reader easily imports the Google reader feeds with some clicks. To do so,
Open the Digg.com/reader and  click the import Button

Then, New window will pop up that asks you to give permission from Google to import Google Reader data.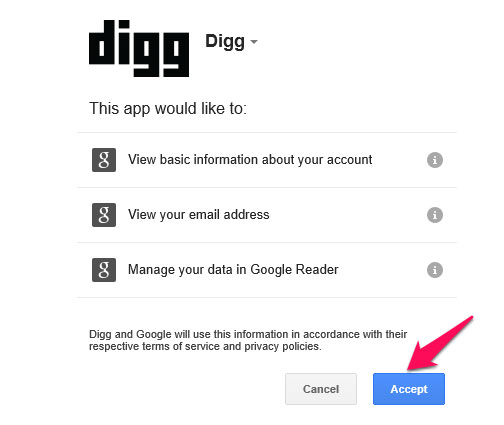 Click 'Accept' to open Digg Reader Account and import your Feeds  (Digg will fetch your email, Name and DOB from Google when you click accept)
Hooray! Your Digg Reader is Ready, and Your Feeds will be listed there too.
If you have an account before Digg, you can use that to sign-in and import Google Reader Feeds using digg.com/reader/import address and use the above process here too.
Digg is Not Yet Ready for Prime Time
Digg has identified a few urgent feature needs that  to add quickly in Digg Reader:
"View Unread Items Only" option for feeds and folders
"Mark As Unread" button
Accurate unread counts for feeds and folders
In a week or so, you can expect these important features in Digg Reader. Other than this, Digg reader offers simple and minimalistic user interface and loads without any glitches. It's a worth a try before Google closing gate of its reader.
See Also The best 5  RSS Readers; Google Reader Alternatives
Also Read: 5 Best Free News, Magazine, RSS Reader Apps for Android Devices
To try out Digg Reader, please visit digg.com/reader.