Earlier We have posted about the Top 20 Most Visited Mobile Websites in 2011.Now TorrentFreak have rounded up a list of the most pirated TV shows of 2011.
Shows From The Premium cable channels like HBO and many were the top of the list of pirated shows.
Dexter has the dubious honor of being the most pirated TV show, with 3,620,000 illegal downloads, compared to a mere 2,190,000 US TV viewers.
HBO's Game of Thrones came in a close runner-up, with 3,400,000 illegal downloads, compared to 3,040,000 US TV viewers. It was followed by The Big Bang Theory, with 3,090,000 illegal downloads, compared to 15,980,000 US TV viewers, then by House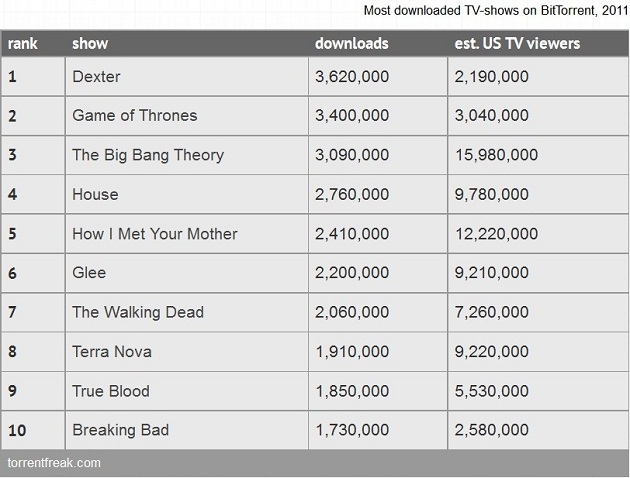 There is some good news for the entertainment industry in the report. Illegal download activity has actually declined since 2010 – last year, 3,880,000 illegally downloaded Dexter, while a whopping 5,940,000 got their Lost fix in the form of a torrent.
Outside the US fans sometimes have to wait endlessly before their favorite show airs on TV in their own country. Many of them are simply not that patient or willing to torture themselves, and turn to BitTorrent in desperation.