On Monday, Google has announced the changes to their free cloud storage. Now you will get 15 GB of unified storage for free to use as you like between Drive, Gmail, and Google+ Photos. Before that Google has offered the separate storage: 10 GB for Gmail and another 5 GB for Drive and Google+ Photos. This changes will be rolling out in a couple of  coming weeks.
Combining the all these products will virtually give more free cloud space for your storage. For example, If you are heavy user of Gmail, but light on storing photos, or perhaps your Google Drive is on the verge of flow, but you are using only  1-2GB Of Gmail. Now You can gain more space from unified storage for one of your product.
Google has changed their Drive storage space ,that shows the pie chart of shred storage space for Google Drive, Google+ Photos and Gmail for better understandings. Look at the screenshot below: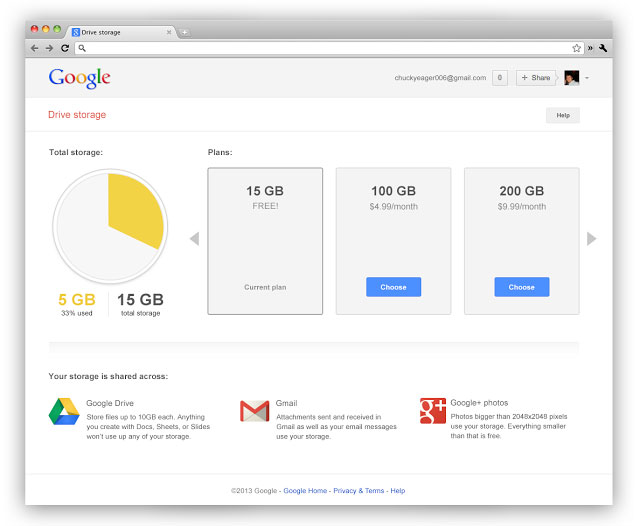 This Change means, For Gmail Users no longer limited to a 25 GB upgrade in Gmail—any additional storage you purchase now also applies to Gmail service.  Like before, You can still upgrade to get more storage space, with plans starting at $4.99/month for 100 GB to $799.99 per month for 16TB.
For Google Apps business customers, the story is different, Google offers 30GB of unified storage across Drive and Gmail.
Once again, Google Plays much smarter than its competitors  and make their lives tougher by combining their three services to give more space for their users.