7 Best Free Tennis Games for Android Mobiles and Tablets
Do you love to play tennis ? Get your Android Phone, Play the Tennis in your Handheld device anytime. Tennis hugely popular worldwide spectator sport. It can be played by anyone who can hold a racket. Is it Possible to Play Tennis Without a racket? Yes! If you have a mobile phone, you can play tennis without a racket!
Tennis is most popular sports, but you can't expect matches every day like cricket game, Football. If you want to play matches daily, get stick tennis like Android tennis games apps. Play Daily challenges and Tournaments in your Android Mobile phone and becomes the World Champion.
Here, We have collected top free Tennis Games for Android users and Tablet users. Download and play the Tennis matches and have a fun in your free time.
Also Read : Top 5 Cricket Games for Android users
See Also : 10 Best Soccer & Football Android Games, Live Scores Apps [Free]
Top 10 Tennis Games for Android Free in 2017
1. Tennis 3D
Want to Play the Real Tennis Game? Install this Tennis 3D in your Android Phone. It is an authentic Tennis game for Android users. Also, it is the first Tennis game came with the 3D Graphics with Genuine Physics System.
You can play the quick game to learn the basics and improve your skills. After that, Play World Tour mode and Grand slam Tournaments. The game offers the unique Tennis players, choose them and win the Grand slam titles.
It provides the touch controls that allows you to play this game smoothly. Just swipe your finger to hit or slice the ball.
2. Stick Tennis
Stick Tennis is the best Free Tennis Game for Android devices which has cute graphics and surprisingly good gameplay. It has nice realistic Tennis Court surfaces with stunning effects.
The game has seven game modes and 10 tennis courts from around the globe. A new challenge match is served up each and every day, with trophies up for grabs. Choose your favorite player and compete with World dominant tennis players.
You can also improve your gameplay by taking practice session in the Casual Sets Tennis Club. In-app Purchase provides much more slams and replay for the daily challenge events to improve your rankings in your region.
3. Play Tennis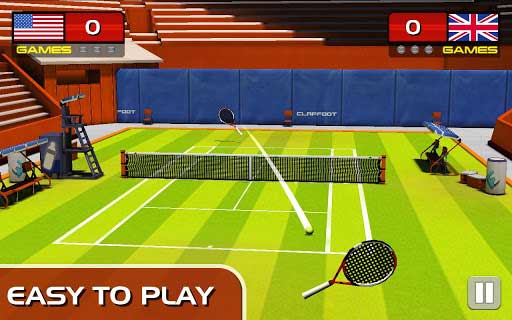 "Play Tennis"  has come with realistic 3D Graphics and gives accurate moves when you play the shots. Unlike other games, "Play Tennis" is not tough to play. It is simple to play in the beginning, you can win easily any matches in "Play Tennis". It's fun and a never boring game.
It has the intuitive touch controls. Use the touchscreen to perform smashes and side shots. Take out multiple opponents and become the world tennis champion!
4. Tennis Champion 3D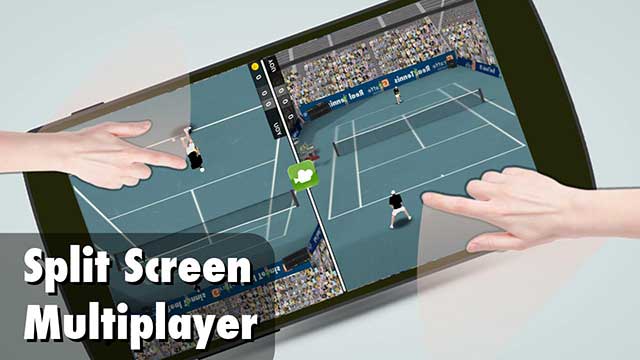 Tennis Champion 3D has come with beautiful 3D Graphics with simple swipe controls. The biggest plus of this game is, It offers the Online Multiplayer mode. With this, You can play with friends and others. Also, it offers the split screen multiplayer mode. Split screen player is nothing but sharing the single device with your friends.
5. Virtua Tennis Challenge FREE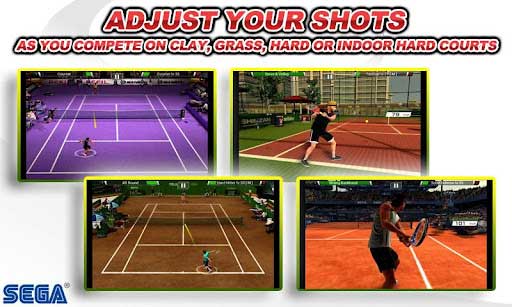 Want real Tennis Experience in your Smartphone? Virtua tennis challenge is the best choice for you. In Virtua, compete against 50 players in 18 stadiums around the globe. Unleash top spins, slice shots, lobs and drop shots through different touch gestures. You have the option to play in Singles or Doubles challenges.
The game provides multiple modes: SPT World Tour, Exception Matches, multiplayer, quick match mode and training mode.
There is multiplayer mode using the Bluetooth. Using that challenge your friends and share your winning moment in Facebook
6. Cross Court Tennis Free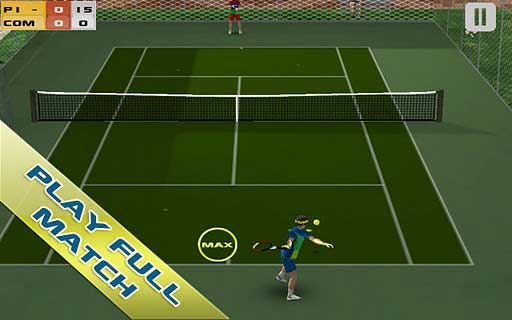 Cross Court Tennis has the Realistic ball physics accounting for different spins. You can develop your playing shots by choosing Auto-Run mode , then challenge yourself in Free Run Mode by tapping the court to run.
7. Gachinko Tennis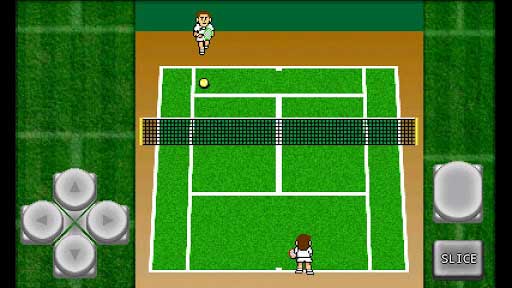 Gachinko Tennis lets you serve up a variety of slices and endure intense rallies in elimination rounds of tennis. Win games and earn experience points to spend on upgrading skills. You can configure 10 different skills and learn up to 7 kinds of serves. It is not a graphical rich Tennis game, but provides some serious game play. You can play against 10 players with your masterful strokes and volleys to supersonic serves.
That's it for now. The free tennis games for android list will be updated when new tennis games are available in the Play store.
Best 10 Tennis Games for Android list will be updated.