10 Best Soccer & Football Android Games, Live Scores Apps [Free] Ever
Football is the most famous game in the world, and it has strong followers. Even in the countries that is not having major Football team, the game is so Popular. Football is the living and breathing for many Die-hard fans when Game kick-starts. With the rise of Smartphones, now you can play the Stunning Football Games in your Android Phone. If you have free time and want to have fun, launch any of the following top soccer Android Games in your Phone or Tablet.
Here's our pick of the top 10 Free football Games and apps currently available for Android from the Google Play Store.
See also : Five Best Free Cricket Games For Android Mobile Users
Also Read : Best 5+ Free Shooting Games for Android Users [First & Third Person]
Top Games : 7 Best Free Tennis Games for Android Mobiles and Tablets

Top 10 Best Football Games for Android Users [Soccer Games Android]
Play the following Best Soccer games in Android Phone and get real life Soccer Playing Experience in Android.
#1. FIFA 14 by EA SPORTS™
Play the Authenticate FIFA 14 by EA Sports Football Game in your Android Smartphone and Tablet. It is developed by the EA Mobile. This game has officially licensed Brazil FIFA World Cup 2014 national teams, kits, and Adidas Brazuca ball.
Stunning Graphics and Rock Music
This game offers the stunning graphics with real football leagues, Teams and Players. FIFA 14 is optimized for tablet, there you can experience the best visual effects.
FIFA 14 sports a killer music from Hottest Artists. It has the playlists of music from Empire of the Sun to Vampire Weekend.
FIFA 14 GamePlay
The game has more than 16000 players, 600 licensed teams and 36 leagues. You can play the most famous Football leagues from English Premier League and La Liga to the German Bundesliga and more.
You can build your own team by buying and selling the players. You can build your own brand of Football team with the Kits, Style and more.
How to Play FIFA 14
FIFA 14 has simple, intuitive gaming controls which gives you the power to play it in your fingertips. Point to move players around the field, tap to pass, swipe to shoot and more.
#2. Real Football 2013

Real Football 2013 is a must-have Football in your Android phone or tablet. This game is developed  by the Gameloft who is the top developer in Google Play store. Real Football 2013 is an improved and successive version of 2012. It has a smooth and realistic graphics like real-world Ground and Players. When you start play this Football Game, you will certainly enter into the real football ground virtually.
In this Game, you have to develop your club and raise your club to top of the league. In the start of this Soccer Game, you will be given a team with rookie players. You have to improve their skills and ability to win all the matches and collect the championship rewards.
#3. Top Eleven Be a Soccer Manager

Top Eleven Be a Soccer Manager is the popular online Football game. There you have to create your own team and compete with millions of players in online. Be a Football Manager, You have to create and Train your team to the top-level to beat other teams. You can play for Cups, leagues, and others season.
Challenge the World
Also, You can challenge other Football managers with your team.
As a Manager, You have to train and set a strategy for you team before and during the game. It is very addictive and you have toe change your strategy in real-time to beat your opponents.
Matches Live
All matches are live. Watch it with your friends and change the players and strategy in real-time. You can also challenge your friends for friendly matches.
It supports cross-platform which allows you to play the game in computer.
#4. Flick Shoot
Flick Shoot provides the ultimate football Gaming Experience in your Android Phones. It has realistic Game Physics with immersive graphics. Free kicks are always fun. Install the game and get into the act of Free Kicks. You can play in the  different game modes like Arcade, Tournament, One Ball, Multiplayer, Time Attack, Goal Post, Targets.
Other than this, the new version also has the Tournament. It's one of the best offline football game for android users. However, they should reduce the ads in their game to give the good user experience.
#5. Flick Kick Football Kickoff
FIFA and Pro evolution has the Android Versions of the Game that once available only on consoles. However, those games cost you some bucks. To spend your leisure time with a free game that is available for smartphone with great touch and swipe gestures to kick off the goal–Flick Kick Football Kickoff. This game is full of fun with cartoonist style players and four modes of Gameplay such Arcade mode, practice Mode, Bullseye mode, Time Attack. Just score the winning goal with the flick of your finger!
#6. Football Kicks
This game has attracted more than 8 millions users and you can practice your free kicks. Football Kicks features six game modes: Beat the Wall, Beat the Clock, Win the Euros, Beat the Goalie, Cross the Ball and the feared Sudden Death mode. Earn free coins and purchase a customized kit for your player, unlock extra stadiums and even get a new swanky haircut. It offers stunning Console game level visuals with 3D motion captured players and a choice of 3D stadiums.
#7. Soccer Superstars Free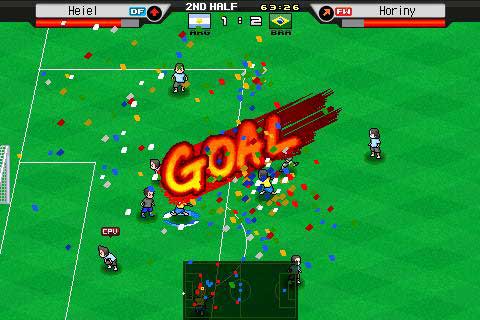 Soccer Superstars is developed by the Top developer of Play Store "GameEvil inc." This game offers cartoony style with real soccer play. You have to develop your team to win events and competition. It has 5 different modes; Exhibition, My League, Season, Cup and Dramatic Mode guarantee endless play time. You can customize the player and buy items for extra powerful game.
#8. Football FreeKick (soccer)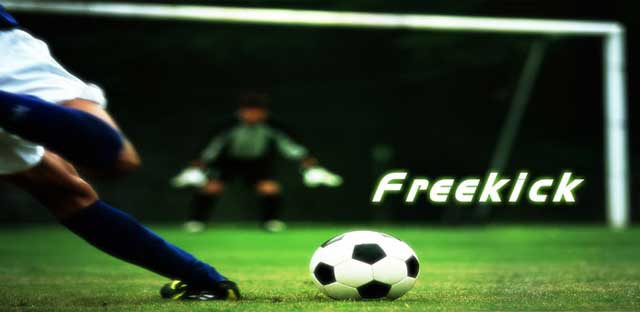 Free Kick Master is the one of most addictive football game. The Gameplay is simple, you have to kick the ball and Goal to score points.It is simple to play but hard to master.
Simply swipe the soccer ball to kick. Can you curve the ball around the wall and goal? It is very entertaining and challenging, you will be totally addicted to the game. You can edit levels and share them with other players.
Football Live Scoreboard and Streaming Apps
You can get the latest Scorecards, Goal updated and upcoming Matched(Fixtures) and all in your Android Smartphone with following apps. Even you can get highlights, match videos  and Best Live streaming Football matches with the below Android Apps. In addition, some of the below apps doesn't require registration or subscription to watch live streaming and highlights.