Get the Best & Most Popular Car Racing Games for Android Phones. Experts have picked the best Racing Games for Android users, particularly for Car Racing lovers.
Racing games for Android Phones are full of fun. Isn't it? That's why we want to share the Best Car racing Android Games for our users to get more fun. Like our Previous post  the Best 5 Free Android Bike Racing  Games, the following list of car racing games are also the best pick from the Google Play store.
The top rated, best Android Games are only listed here, all the games are tested by Android experts.
You can install the Multiplayer Online Car Racing games, score big and show your power to the world. Also, You can play with your friends, beat them and fun with them. Let's start the Racing cars in your Android phone. Recently, the Play store got many Racing games for Android Phone which includes car racing games and Bike Racing games. Here, I'll share the best Android Car racing games for you to play like a racer.
We've many best Free Android Car Games Released this month.
See Also : Best Free Android Apps Of All Time Ever! A-Z Categories [Must have]
Read the Part 2 : 10 Best Car Racing Android Games Free Download (Part 2)
The Best Car Racing Games 2020 for Android Users
1.  Drag Racing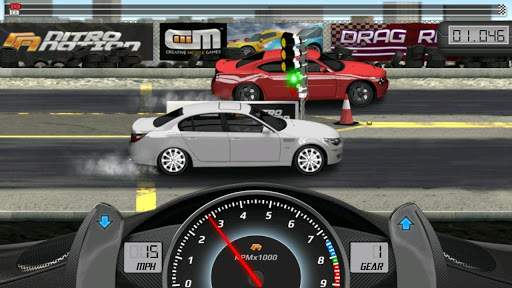 Drag Racing is the most Addictive car racing game in the Google Play store. The best part of this game is, it is available for free. Download this game and play the 50+ officially licensed Real Cars from hot hatches to American muscle and 1000 HP and iconic Skyline GT-R, a classic 69′ Mustang, or a brand new BMW M3 supercars.
More than Million Times
"Drag Racing" has been downloaded more than million times and is still going viral. Once you install the game and start play it, you will feel the addictiveness of the Drag Racing.
Multi Player Mode
Racing on your own is fun but in this Game you can challenge any opponent in the word by using the online section. Yes, You can play against your friends or random racers beat them and show your strength. You can also play against 9 players in the real-time in the MultiPlayer Online section.
The game play is very simple. You have to drive the car in the straight line and finish first. Do you think racing in a straight line is easy? Nah, Play the game and you will know that.
You'll definitely love this game. Just try this once after that you will never leave the racing tracks.
Price: Free
Size :  28 MB
Download Drag Racing From Google Play
2. GT Racing: Motor Academy Free+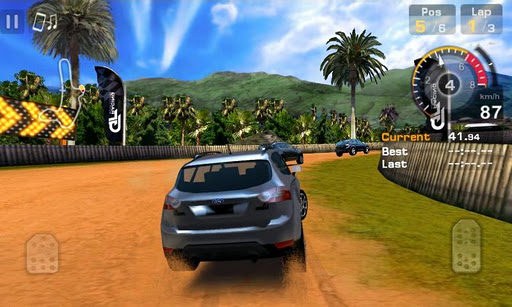 GT Racing Motor Academy is developed and launched by the Popular Game Developer "Gameloft". You will get the richest racing simulation experience while you playing the GT Racing Motor Academy Free+. Pass driving tests and win races to unlock  more cars and events. If you want to unlock everything, then you have to purchase XP multipliers and credit packs directly from the game.
The Game offers 26 manufacturers and 111 licensed cars to buy, drive and upgrade including the Nissan GT-R, Audi R8, top of the line Ferrari models and even the Ford Model T. Also you can play against drivers from all over the world with local and online multiplayer for up to 6 players.
Realistic Physics Engine
Gameloft has developed the new and elaborate Physics engine for all cars to separate each other. You can get the more power and performance from your when you know how to race with them.
MultiPlayer Online Mode
You can play against any racers in the world virtually and show your racing skills. This game allows you to play with 6 online racers in real-time or local players.
Price : Free
Size : 1.1 MB
Download GT Racing Free+ from Google Play
3. Real Racing 3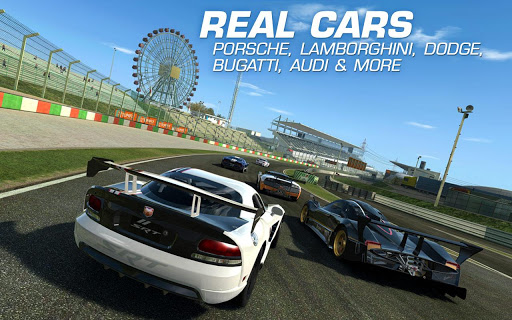 "Real Racing 3" – the car racing game  is from the Popular "Electronics Arts" Gaming company. Technically, this is the best Racing game that matches the real world tactics in the Google Play store. It has stunning Graphics with superior quality and amazing physics.
Real Cars in Real Racing
New features include officially licensed tracks, an expanded 22-car grid, and over 45 meticulously detailed cars from makers like Porsche, Lamborghini, Dodge, Bugatti, and Audi. Drive any car that has developed with much care and extra details. Test your car Racing Skills in the 22-card grid racing track and experience the unbelievable experience in your Android phone.
Multiplayer Mode with Innovative Technology
Plus, racing with friends gets kicked into another dimension with the innovative Time Shifted Multiplayer™ (TSM) technology. Using this feature, even you can play with them offline using the fully interactive, AI-Controlled Time shifted versions of your friends and other players.
You will get the Premier racing experience whenever you play this Android game in your Tablet or Mobile
Price : Free
Size: 15 MB
Download RealRacing 3 From Google Play | Full review
Read : Top 10 First Person Shooter Games for Android Phones / Tablets [3rd Person]
4. Hill Climb Racing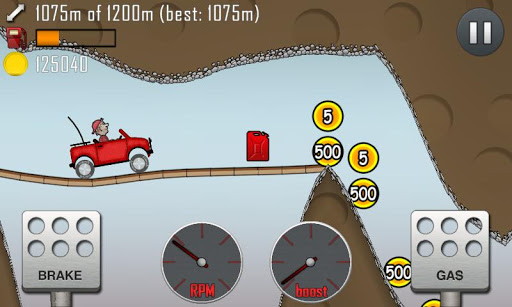 Hill climb racing is the one of the most addictive and fun game. This game has a simple concept but gives you enough  challenge to keep racing more. This Android Racing game has nice user interface and control.
Unique Challenges
Face the challenges of six unique hill climbing environments with 3 different cars. Gain bonuses from daring tricks and collect coins to upgrade your car and reach even higher distances. You can upgrade your car and with different parts. In this game, you have 8 stages and each stage have 4 levels to finish the game.
Addictive But Tough Game Play
Yes, It is extremely Addictive, but clearing the level 3 is not so easy. Install the Game and You will feel that. Once You know the tricks Hill Climb driving, the victory will come in your way.
Price : Free
Size : 20 MB
Download Hill Climb Racing From Google Play
Our Popular Android Games Apps lists: 5 Best Android Games Cricket, Soccer(Football), Tennis
5. Raging Thunder free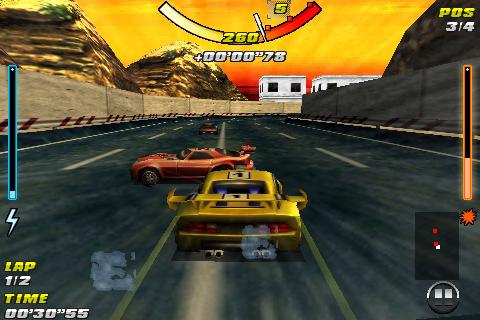 Raging Thunder is really a fun and awesome game to play. Raging thunder offers you to play with multiple online players. Game has nice 3D graphics and effects. Download and prepare for the most hardcore racing experience of your life!
Multiplayer or CPU Controlled
Play against system controlled opponents and beat them to get reward points. If you have the Internet connection,  Play the multiplayer Online mode to race against your friends and best drivers in the world.
Price : Free
Size :4.9 Mb
Download Raging Thunder from Google Play
6. Road Warriors: Best Racing Game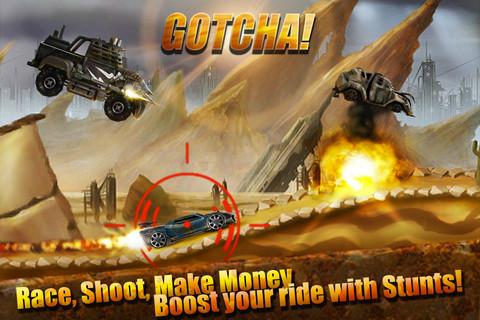 Road Warrior is an addicting multiplayer combat racing game! Race against opponents and shoot them with your guns. Gain respect to race against bosses. Beat them and you will get their extremely tuned racing & killing machines!
Like the Movie, Race and shoot your opponents and get their highly priced cars. There are multiple cars to choose from sedan to massive trucks.  Install the game and play with your friends in multiplayer mode. It has stunning, realistic Graphics with crystal clear sound!
Price : Free
Size : Varies With Device
Download Road Warriors from Google Play
7. Beach Buggy Blitz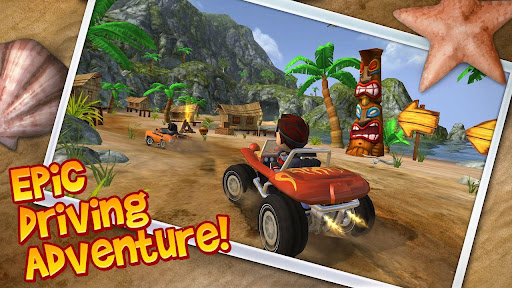 This Beach Buggy Blitz is developed by the top developer(Vector unit) of Google Play store.  This is "Awesome racing game with heavy physics coming at you from all angles.
The concept of the game is that drive your hot-rod beach buggy as far as you can into the uncharted depths of a mysterious tropical island! Explore sun-swept beaches, secret caves, fog-shrouded swamps, ruined temples and erupting volcanoes in this action-packed quest of discovery and mayhem!
Price : Free
Size :  47 MB
8. Extreme Road Trip 2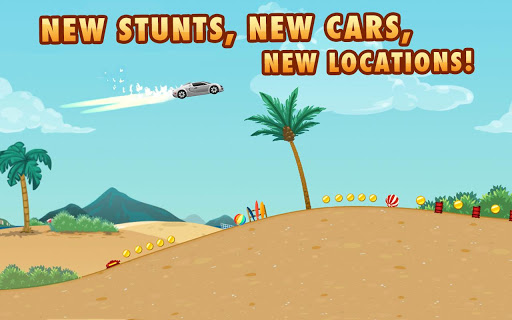 Extreme Road Trip 2 is very fun! simple game yet challenging one. Collect coins to unlock new cars as you play! Complete missions and get rewards! Race in the exciting 11 locations around the world with 78 all new cars. The game has the fantastic music that will vibrate your mind.
The best entertaining game.
Price : Free
Size : 23 MB
9. Speed Racing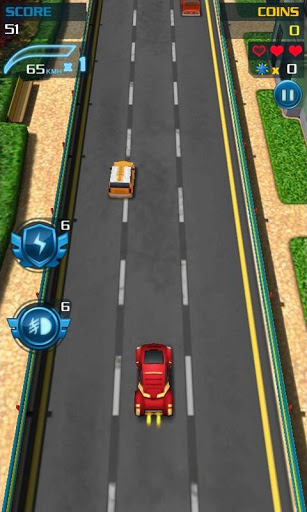 Get ready for the most exhilarating handheld racing experience!
Buckle up and hit the gas; you're in for the ride of the best racing experience. Feel the intensity of no brakes allowed street racing with the best 3D racing visuals.
Price : Free
Size : 12 MB
Download Speed Racing from Google Play
10 . Traffic Racer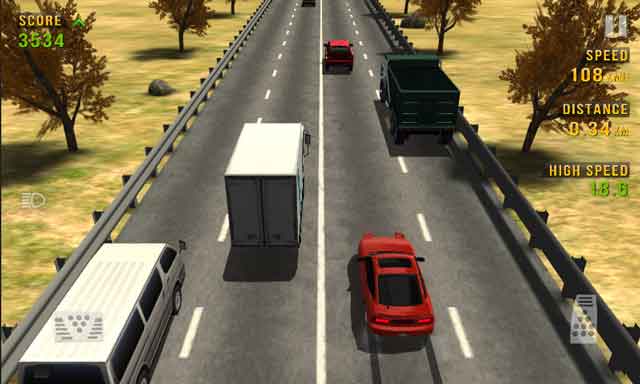 You can never race in the High Traffic in the Real World. In this Traffic Racer Arcade Car Racing game that is possible. Race in the High way traffic and beat others to earn points. Use that to buy new cars  and upgrade your existing cars.
You can race in the four difference locations line SubUrb, Desert, Snowy and City night. It offers 21 stylish cars and 4 different types of Game modes. Go fast as you can to earn more points.
Price : Free
Size : 42 MB
Also Read : 5 Best Android Apps for Boosting Battery life For Gamers [Battery Savers]
New Apps & Games : Top 20 Best Free New Android Apps and Games