Battery Doctor is an Android Application that will help android users to Maximize the battery life of their devices. This application is very useful for the people who have tried many other Battery Saver utilities. This battery Saver Application will show you the exact usage of battery power by apps and other different activities.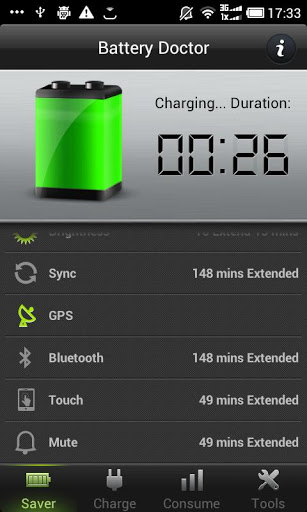 What is it and What can this App do?
The Main Functionality of this Battery Doctor App is that you  can get an estimate time of usage with the current battery level you have. And, also this application will show you the different power usage for different activities you do on your Android device.
Key Features of Battery Doctor Android App
Predict Battery Power Availability – Display the power of free time (accurate to minute) depending on the device.
Fully Recharging – When the battery power is below 20%, run Battery Doctor and plug in the charger, it can then help maintain your android device automatically during charging.
Adjust Settings Automatically – You can turn on/off wifi, GPS, bluetooth, data or other battery draining components with a simple click to maximum the power duration.
Power-saving tips – Provide dozens of power-saving and maintenance tips. Life-span of battery can be extended a lot if it is properly maintained.
Power Consumption – Easily find out which app consumes your power usage most.
Download
Just try this app and know how to you can improve your Battery Power.
Price : Free
Size  :  2.5 MB
Requires : Android 2.1 to up
Download Battery Doctor from Google Play
Also Read  : Extend Your Battery Life In Laptop / Notebook [How To]