Here's the top 10 Best Cleaning apps for Android to clean and speed up the Phone. I've tested the Cleaner & Booster Apps in my Android phone and picked the following best apps only.
Cleaning up and maintaining  your Android phones are the most essential thing you have to do periodically. Even if you have few number of apps or files, your Android device will slow down after some time. It is because of the App caches, residual files, junk files, Garbage files. It is Headache when you have clear that junk files separately. Isn't it? In this article, We have listed the best five apps that will help you to maintain your android devices, it could be the smartphone or tablet.
Maintaining the clean Android devices will help you to prevent slowdowns and give more free space for other resources. In addition, the optimization reduces the system burden by freeing up more resources as a result you can get faster performance and smoother operation from your device.
Clean Master is the one Best cleaner app for Android phones. Here, We've also listed the other top Free Cleaning Apps for Android Mobiles/Phones. Just use these Best System Cleaning Apps to Maximize Android's Performance
Here, We've listed best Apps with Cleaner and Booster for android. You can use these cleaner apps for Samsung Phones, Motorola, Lenovo, Redmi or any other Android Phone.
Best 10 Cleaner Apps & Booster Apps for Android Phones 2020
Do You know, How do I get More Space on my Android phone??
You can improve the speed of the Android Phone by using simple Maintenance Tips. Yes! Follow the 5 Tips and have the Super Fast Android Smartphone.  Click the Link below,
Read : How To Speed Up an Android Phone Easily with 5 Simple Tips
Also Read: Best Free Android Apps of all time ever
Top Cleaning Apps for Android
1. Clean Master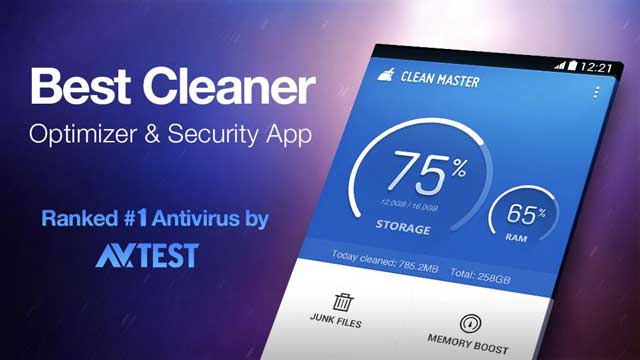 Clean Master is all-in-one Android Apps that have the cleaning and optimizing tools and maintenance tools in a single place. The Clean master is the one of the best clean and maintenance tool for Android. It will help you to clean app cache , unused files, residual files, search history and uninstalling apps. Compare to other apps in this category, it has more tools in one environment to easy to use.
Furthermore, It is one of the best App to Clean your Android Phone or Tablet. Clean App Cache module will clear the cache files that has been created by the All Apps. If you are having the Android Phone that has low internal storage, Use the Clean App cache module to get more space. Your Android phone may slow down when your device is having the low internal memory.
Click here for Clean Master App Download and Review
2. All-In-One Toolbox: Cleaner, Booster, App Manager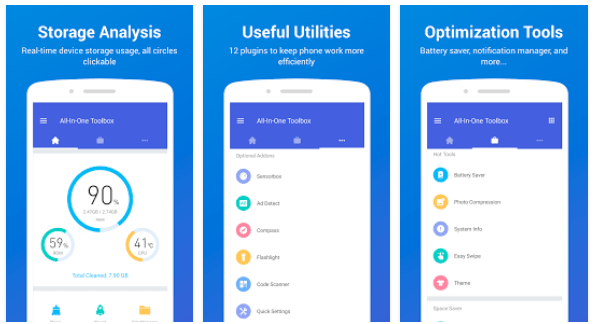 Want to get More Performance, speed and Storage for your Android Device? Then install All-In-One Toolbox which is the best android phone cleaner app. AIO offers junk cleaner, task killer, speed booster, app master, battery saver, cache cleaner, app locker, CPU cooler, file manager, quick battery charger and more.
The CPU Cooler is one the awesome feature of this app that close overheating apps to cool down phone temperature and save battery.
Download All-In-One Toolbox: Cleaner, Booster, App Manager
3. Cache Cleaner-DU Speed Booster (booster & cleaner)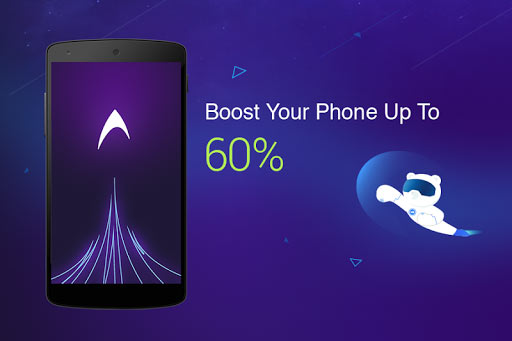 DU Speed Booster is all-in-one tool speed booster, Android Trash Cleaner and Antivirus cleaner App. This App has inbuilt Antivirus Engine. So that You can use this single app to clean, Boost and Protect your Android Phone.
It has got one-tap Boost Phone and RAM memory booster. BY using this tool, You can  optimize your Android device and make it faster by 60% on home-screen. Basically, The app will Clean up memory (RAM) and optimize phone speed by removing redundant background tasks.
The app also got the App lock feature. So, You can lock important private apps such as Facebook, Instagram, SMS, Settings and so on.
DU Speed Booster has the CPU Cooler feature that will detect and clean apps that cause overheating. Basically, this app will close the background Apps that highly consumes CPU.
The Game Booster feature of this app will speed the gaming apps by 30%+. The Network boost of this application will reset all your network interface connection by one click
Download DU Speed Booster & Cleaner
4. Power Clean – AntiVirus Cleaner and Booster App

"Power Clean" is a light, fast & smart android phone cleaner and booster app. This app has been downloaded by more than 130+ Million Android users . Using one Tap Boost will clear the junk files very fast and improve phone speed rapidly.
The RAM Cleaner & RAM Booster will be helpful to clear your RAM memory and gives instant speed boost for your phone.  The Latest version of Power Cleaner comes with Android Virus Scanner and 24/7 Antivirus Protection.
Also, It features CPU monitor & CPU cooler for android that stops overheating apps & settings. Using that you can save your battery from draining issues. You can also use this app as virus cleaner for android phone. Because it comes with Antivirus support too.
5. CCleaner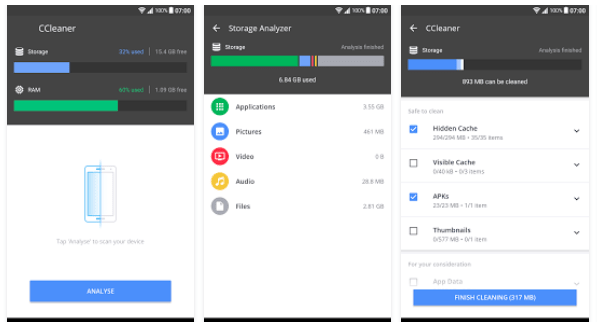 Like other Android Cleaning tools, CCleaner for Android has come with same features. It has got modules that cleans the Application cache, Download Folders, Call logs, Browsing history and Clipboard items.  Finally, it removes the al junk memories improve the speed of the Android Phone. CCleaner offers some other features like App Manager, system monitor.
Read the full Review of CCleaner Android App
6. AVG Cleaner: Free Utilization Tool & Space Clean
AVG is known for its security products, has come up with All-in-one utility tool. In Single App, AVG provides the Android Cleaner, Android Booster and Android Battery Saver Applications.
It offers cache Cleaner, Media & Files Cleaner, Smart Photo Clean-up, Battery Saver and Optimizer, App & Memory Manager.
Smart Photo Clean-up is the best feature of this app, which helps you to automatically identify bad & similar photos. Also, You can decide which photo you want to keep before deleting those images.
Turn on Auto Reminder, this app will automatically find the junk and clutter for you and let you clean it from a simple reminder in the notification panel of your device.
7. Android Booster & Cleaner FREE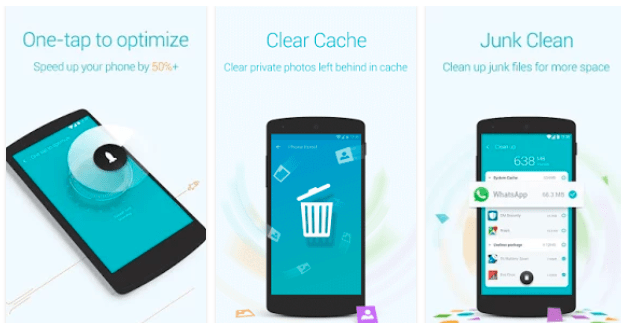 Android Booster & Cleaner updated with simple, elegant interface. Now You can use this app to clean the Junk files and optimize the Android Phone effectively.  Android Booster is your Android assistant to clean and maintain your smartphone or tablet. Booster will optimize your device in the best possible way that will automatically improve the Android system performance. So far, this has been downloaded by more than millions of times, and now it is available for free in Play store.
Android booster has the  battery manager utilities for your Android phone and has one click optimization feature that will optimize your device completely. In addition, this app has the file manager, app manager and Network Manger tools. Also, this app provides Antivirus tools such as virus scanner and Privacy protector.
Price : Free
Size : 3.9 MB
Download Android Booster from Google Play
Read : Get First Day Performance and Smoothness of Your Android Again with Greenify!
8. Avast Cleanup & Boost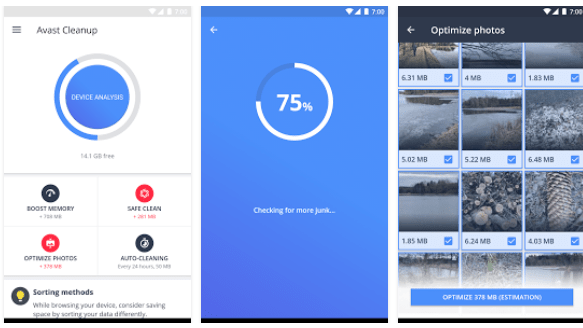 Avast is known for its Free Antivirus Software Products for the personal Computer and Mobile phones. They have launched this powerful cleaning and highly effective Cleaner and Booster App for Android.
Avast Cleanup optimizes your phone's performance and boosts its speed by removing unused junk from your Android mobile.
Download Avast Cleanup & Boost
9. App cache Cleaner – Turbo Cleaner – Boost, Clean, Space Cleaner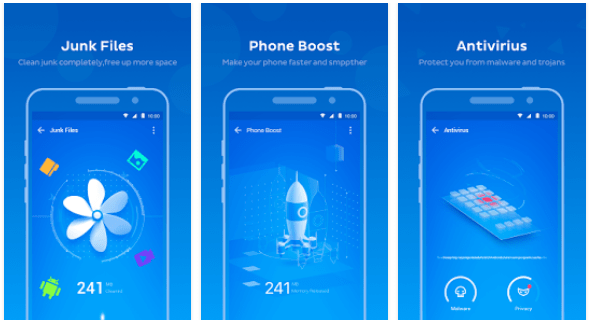 App Cache cleaner is the handy Android Cleaner tool, that will clean up all your application cache of all your applications. This is one of the best Android Boost Cleaner App available in the Google Play Store,  use one tab cleanup feature that clean all cached files for getting more available space.
This tool can free a lot of storage memory for your phone. If you running out of application storage, you now can get more available storage space by clearing apps created cache/data files.
This app will help you to fix  and Stop low memory warnings.
Price : Free
Size : Varies with device
Download this app From Google Play
10. Advanced Task Manager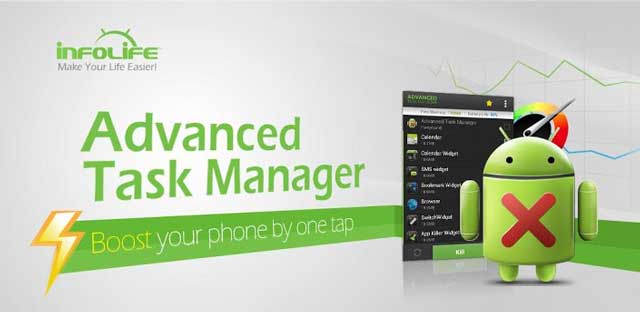 Advanced Task Manager can list all the running tasks, and you can select some to kill it. It also has the App management tool to manage all the installed apps. This app will help you to Kill tasks, free memory, speed up phone, save battery.  This app automatically kills the tasks every time your screen off. In addition, this app has the quick uninstaller and battery manager.
The battery Manager module will display the battery status and battery life. Use this to know you current battery status and play with your phone according to that battery stats.
Android Optimizer feature will manage and optimize the Android device by killing the unnecessary background processes, services. It will clear the unused RAM memory that has been allocated by the unused Apps. If you feel lag in your Android device, use this module to get faster Android phones.
GPS feature is useful for navigation and location-based services. However, some Location App services will use the GPS in heavy mode and drain out your battery in no time. At that time, you can use this Kill GPS feature in this app to kill the apps that used the GPS services. Certainly this little feature will improve the battery life in your Android Phone.
Price : Free
Size : Varies With Device
Download this app From Google Play
11. Startup Manager (Free)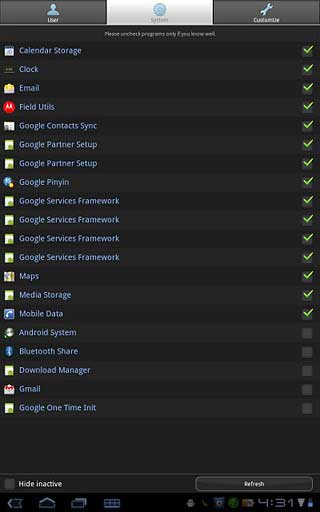 Startup manager is not a cleaning app but it helps you to disable undesirable system startup entries when your phone or tablet boots. This app monitors and shows the  list of startup apps and resources. To disable an item from system startup, uncheck the application from the list.
You can also re-enable the apps or resources using  this startup manager's system startup entries list. In addition, You can uncheck all startup entries in bulk to enhance system startup speed. If you want only enable particular app,  simply enable it in the startup entries.
Size : 879K
Price : Free
Download Startup Manager from Google Play
Do you know the maintenance and Optimizer modules have been integrated with many Antivirus Android Apps?
If you want All-in-one Android apps that have the Antivirus and Maintenance features,
Read : Top 10 Best Free Antivirus Apps for Android [Security Apps Review]
Do you know any other apps that help you optimize your android devices? Share it here.