The Smartphone Market has kick started by Apple, but the benefits have been reaped by the Google. Android the smart mobile operating system developed and open-sourced by Google. That allows the thousands of developers to create plenty of apps for Android Platform. Already, Google Play has got millions of Music oriented or related apps. This makes you very difficult to choose the right music app for music need. That's why here we have picked  some fantastic Music Video Players to install it in your Android Phone straight away and enjoy the music pleasantly.
Here is our pick of the top free Android apps in the category of  Movie, Music and audio Players, you should install.
Also Read : Best Free Video Converter for Viewing Movies in Smartphone
The List includes other than MX Player,
5 Best Free Android apps to Watch Online Movies
1. MoboPlayer
MoboPlayer is the best video player on Android. It has supported a lot of Codecs makes that are not officially supported by Handsets. So that Any Android user can watch any of theirs videos on a phone without conversion, anytime and anywhere. And, also  you can get the playback experience and the quality from Moboplayer.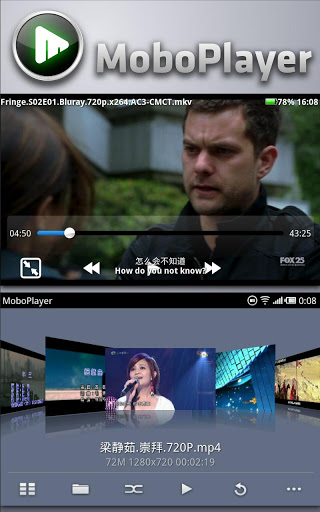 Features of  this Best Android Video Player App (Moboplayer)
Supports All video formats (need to choose "software decoding" mode in most cases)
You can play videos with Popular subtitle formats such as SRT, ASS, and SAA
Also , Supports the videos with Subtitles built in MKV, MPV, MOV, and others formats.
Multi-audio streams and multi-subtitles
Playlists and continuous play on same type files
Videos streamed through HTTP, RTSP protocols
Media libraries and sort videos by type
Thumbnail displays of videos
Download From Google Play
2. DeaDBeeF Player
DeaDBeeF Player Player which can play many file formats plus it has online radio (Shoutcast). This Android Player offers multiple playlist feature, by using this you can listen continuous playback. That is  the player doesn't just skip silence, it calculates the precise amount of samples for each file, does sample-accurate seeking and playback, and gives sample-perfect result, just like CD players.
The player offers radio streaming feature. So that If you have internet access, you can listen online Radio.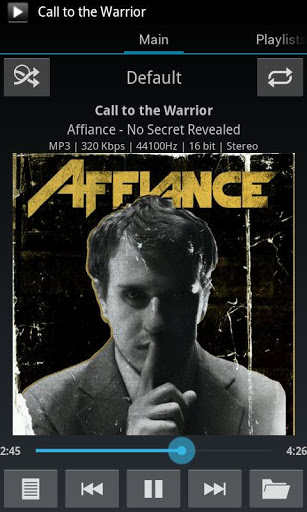 Key Features of this Android Video Player App:
 plays many file formats – mp3, ogg, aac/mp4, alac/mp4, flac, ape, wv, wav, tta, mpc, sid, mod, s3m, nsf and many more
You can view music file tags and album art
viewing music file tags and album art
Download this Video Player from Google Play Store
3. Real Player
Real Player is the Popular Music and Video Player for Android.  This player is the best way to search, discover and play online and on-device videos on your android device.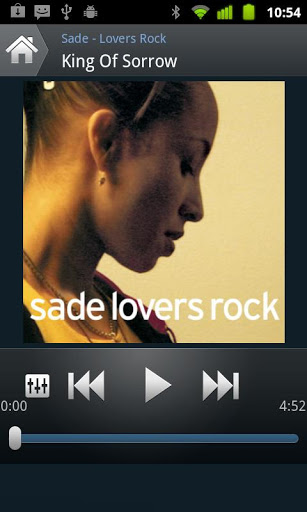 RealPlayer Features:
Online video search, that searches YouTube, Bing and other sites.
Voice commands for search
Videos, Music and photos all in one place
Available in 9 languages
Auto bookmarking of videos
Optimized graphics for high-res devices
Playlists
Download Realplayer from Google Play
4.  VLC for Android Beta
The best Free Video player for Windows and other Desktop operating systems has now come to the Smartphone World via Android. VLC media player is a free and open source cross-platform multimedia player that plays most multimedia files as well as discs, devices, and network streaming protocols.
But it's still in beta. Although you can try this video app in your android device for free.
Download VLC Player For Android Beta
5. Google Play Music
The Google Play Music app lets you listen to your music collection anywhere. All your music is stored online, so no need to worry about syncing or storage space. Compare to other music service providers, Google has allowed its user store unlimited music but limited on number of  Tracks.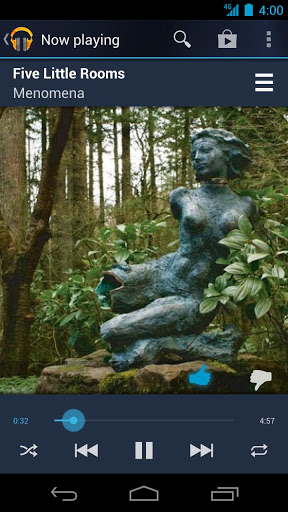 Key Features :
The Google Play Music app lets you listen to your music collection anywhere. All your music is stored online, so no need to worry about syncing or storage space.
Add up to 20,000 more songs from your personal music collection on your computer for free.
 6. Google Play Movies & TV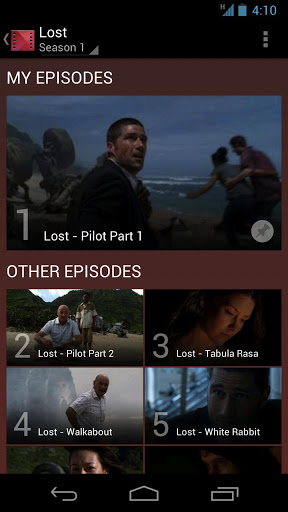 Google Play Movies & TV allows you to watch movies and TV shows purchased on Google Play.
You can stream instantly on your Android phone or tablet, or download so you can watch from anywhere, even when you're not connected. Also, get quick access to your personal video collection, including those taken on your phone or tablet.
Download Google Play Movies & TV