On April 1, 2013, Google has celebrated the 9th anniversary of  Gmail. Now Gmail has more than 425 Million active users worldwide. Personal wise or business wise, Gmail is most essential and useful program for all of us . In the past, Gmail has been unavailable on several occasions. Recently Gmail faced the downtime on March 2, 2013 for many of its users. It took 16 minutes for Google to resume this outage.
Gmail also backups all their Gmail messages and everything regularly. If anything unwanted damage happens,Google can get users data from Backup servers. But what if they didn't? What if they couldn't?  Are you Going to take risk?
So It is essential to take backup of your Gmail messages to keep it safe and secure locally or in the another online service. Local backup allows you to read your mails offline.
Here, I've listed the Best Five ways to Backup your Gmail Messages and contacts.
Also Read : How to Access your Gmail Messages, Calendar and Docs in offline Mode
Way #1 : Use Desktop Email clients
Use Desktop Email clients to back up Your Gmail emails. There are a lot of Email clients available to choose. Here, I've picked the  Top email clients such as  Microsoft Outlook, Apple Mail and Mozilla Thunderbird. The email Clients download your Gmail as POP3, which will actually store the messages locally in your email client. In addition, you can store your important emails in your Hard Drive as a folder.
Click here For More Best Free Email Clients 
For this you have to enable the Pop3 access in your Gmail Account Settings > Forwarding and Pop/Imap Settings. You can get all the setup instructions there in Gmail Settings.
Way #2 : Use Outlook Mail as Backup (Hotmail)
Gmail's rival Outlook Mail(Hotmail) lend you the helping hand to back up your Entire Gmail emails and Address book. Yes! using their TrueSwitch  (a web-based Hotmail importer), You can backup your entire Gmail Account.
For More info read this post ,
Read: How to Migrate from Gmail to Outlook Easily with Microsoft Tool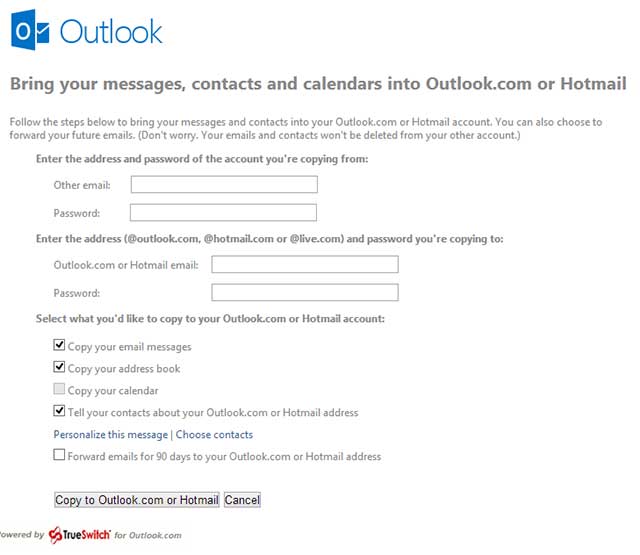 Just Go to Trueswitch and enter Your Gmail login details and Hotmail(Outlook) Login details. Then Press the Button "Copy to Outlook.com or Hotmail" button. The magic will start, and your entire Gmail Messages will be copied to Outlook.
Automatically, you can send the future Gmail Emails to your Hotmail account by enabling the Forward option in your Gmail Settings Settings > Forwarding and POP/IMAP > Add a forwarding address.
Way #3 : Online Backup Service
There are many Online backup services offers Mail backup. Although here we choose the Backupify to backup Gmail Account. The free version of this service offers 2 GB of Backup storage, you can get more memory in paid version. Using the Backupify service supports Google Apps, Twitter, Facebook and more services. Your data are backed up in the cloud storage, and they are using Amazon S3 services.
Way #4 : Use Gmail Backup
Gmail Backup Software is available for free, and it supports Windows, Mac and Linux. Using this program you can backup and restore all your Gmail Inbox. For this, You have to enable IMAP in your Gmail Account Gmail Account Settings > Forwarding and Pop/Imap Settings >IMAP Access
Way #5 : Other scripts
You can use the script called Fetchmail (using the command line and running the Unix program) and getmail for all of you Linux users.
If you Know any other options, share that with us!
Checkout Our Previous Post,  How to Save the Website for Offline Reading