Google Keep is the Newest Android App developed by Google to Take notes. This New Note-taking app is currently live and available in the Google Play store. You can download and use this app only  in the Android devices that come With Ice Cream sandwich and above.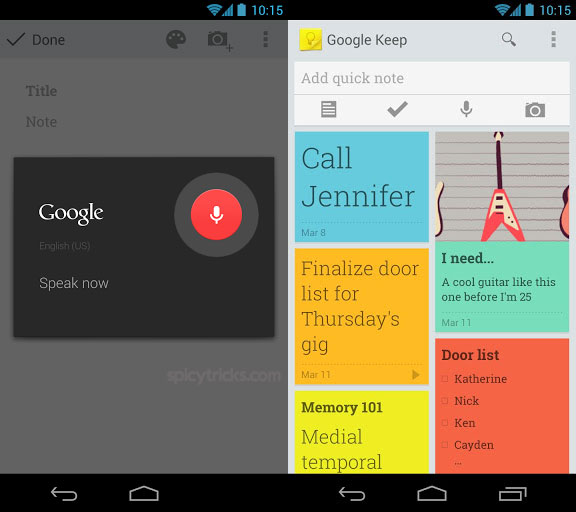 If you are not an Android User then how to get this app? Google allows you to use this notes app as  a Web application in drive.google.com/keep
The Google wrote in their blog
"Every day we all see, hear or think of things we need to remember. Usually we grab a pad of sticky-notes, scribble a reminder and put it on the desk, the fridge or the relevant page of a magazine. Unfortunately, if you're like me you probably often discover that the desk, fridge or magazine wasn't such a clever place to leave the note after all…it's rarely where you need it when you need it. To solve this problem we've created Google Keep."
Using Google keep you can make a list of notes and you can prioritize them easily by dragging them. In addition, You can use the color codes to highlight your notes and add the same colors to similar tasks to easily figure out that.
All of your notes will be saved in your Google Drive, synced with all your devices so you can access it from wherever you are. Google keep also allows you to add images to your lists.
 Add Notes from Desktop:
You can currently access your notes by logging on to http://drive.google.com/keep. As well the desktop allows you to add notes, that will be synced with all your devices. It's pretty simple 🙂
What you can do With Google Keep?
 Keep track of your thoughts via notes, lists and photos
 Have voice notes transcribed automatically
 Use home screen widgets to capture thoughts quickly
 Color-code your notes to help find them later
 Swipe to archive things you no longer need
 Turn a note into a checklist by adding checkboxes
See Official Video of Google keep
Don't forget to Visit our Best Android Apps gallery to get more useful Apps like this