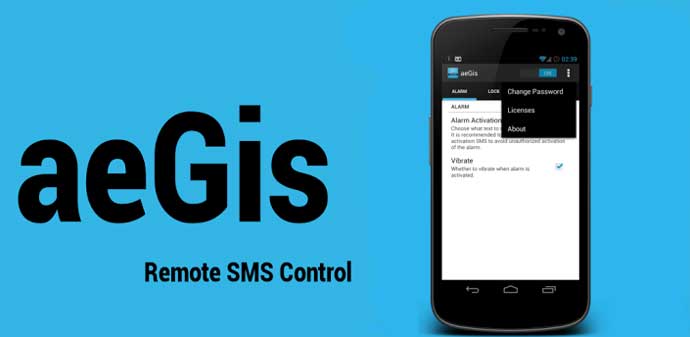 You have many number of security apps to choose for your Android phone, but aeGis a new Security app stands out with unique features. aeGis is simple to use app for any newbies, just set the Specific Trigger Phrase in your android phone and SMS to remotely lock your device as well as Wipe our your entire data.
What is it and How it Will help
aeGis is an Open source security Android app that gives you the ability to control your Android phone via text messages in case your mobile is stolen or lost. This app has many security features and currently you can remotely lock your device  with a password or pin number, locate it using GPS, backup up call logs or sms logs(or both) to either Dropbox or Google Drive and initiate Alarm Trigger to scream your phone.
This app is completely opens source and released under GPL. So anyone can download this app's source code here. This app uses the SMSAlarm functionality to lock, locate and wipe your data Android phones.
Main Features:
Locate and track your phone if it goes missing or is stolen by receiving sms updates of its location.
— Remotely lock your device with a password or pin number.
— Remotely wipe your device.
— Remotely backup up call logs or sms logs(or both) to either Dropbox or Google Drive.
— Remotely enable sound on a device and make it scream.
Completely free to download and no ads
Except alarm functions all other functions are disabled by default to prevent any wrong doing any of your friend.
App is installed in security system directory, So it can't be deleted even if your entire data wiped out.
This app works lightly as Background process, so it won't reduce your battery life and battery power in any android device.
Conclusion and Download
aeGis is essential Android app to be installed every Android Phones. This app currently supports 731 different devices, according to play store. And this can be used in any part of the world and except US texting the phone to return a location will return coordinates, but might not return a street address.
Size : 2MB
Price : Free
Also check out our Best Android apps , Best Android Games collections.