If you have Android Jellybean Smartphone, get this DashClock Widget to power up your phone to the next level. This widget expands itself by allowing extensions to shows notifications and information in the Android Lock screen. That gives you the ability view many notifications from many apps without unlocking your phone.
What is DashClock ?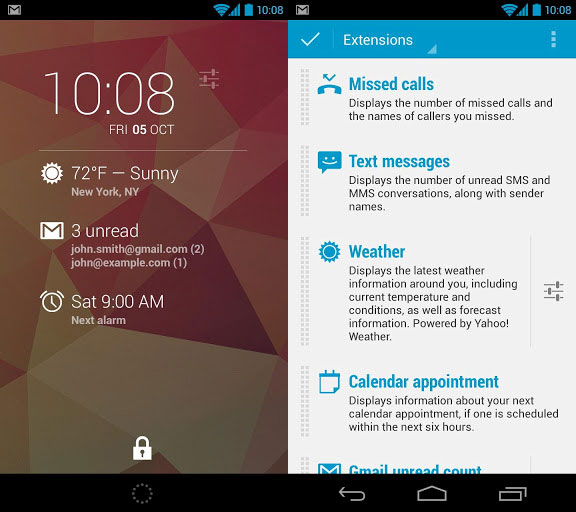 DashClock is a replacement lock screen clock widget for Android  Jellybean 4.2+. But What the special of this app is, it expands itself by allowing many apps and widget to show their info in the lock screen. DashClock also has come up with some nice extensions which will show your current local weather,  Missed calls and unread text messages, Your next calendar appointment, Unread Gmail inbox or priority inbox conversations and Your next scheduled alarm.
DashClock widget is an open source, and it gives entrance to any developer to hook their own extensions to it. Already there are a handful of extensions to choose for your DashClock LockScreen Widget. Your lock screen will look fantastic with this DashClock, and it is the must have app for any Android phone users.
Here are the few DashClock Extensions to fire up Your Lock Screen.
App Launcher for DashClock
AppLauncher for DashClock provides an easy way to launch applications right away from your Lock screen. You can add your much-needed apps shortcut to DashClock using this App launcher. Now you can open music player and the camera app etc. from your lock Screen with out unlocking it.
Google Voice for DashClock
Google Voice for DashClock shows the notification from Google Voice. Get the new message count and latest message details in lock Screen. You can tab the notifications to unlock the Lock screen and to launch the Google Voice app directly.
NowPlaying for DashClock
NowPlaying Extension for DashClock will show you the Currently playing track information, album name in the Lock screen. This DashClock Extension works with most popular music players for Android.
AnyDash
Using AnyDash, You can get the notifications from any apps in your phone, even if your apps doesn't have an extension for DashClock widget.
Sound Search for DashClock
WoW! Sound Search for DahsClock finds the song that you are currently hearing in Coffee shops or in streets. This app puts sound searching apps like Google Sound Search, Shazam and Shazam Encore, SoundHound and SoundHound Infinity in the lock screen to capture the songs that are playing in the speakers.
Many popular apps also have the inbuilt extensions to work with DashClock. The Best Twitter Apps for Android such as Falcon pro and Plume provides support for DashClock. Using that you can get Direct messages, Tweets and mentions directly in the Lock Screen.