'Real Cricket 14' is one of fastest downloaded Android Cricket Game app at the Play Store in this month April. This Cricket Game is rightly launched in the start of  IPL 2016 which is cash-rich Cricket league played in India. The Real Cricket 16 is launched by the Nautilus Mobile and they developed the True Cricket Android Game for Cricket crazy fans in India and the Rest of the World.
Play the Real Cricket 16, and get the complete Real World Cricketing experience in your Android mobile and Tablet. Real Cricket 2016 provides with Diverse modes, Exhibition, Tournaments such as T20 World Cup, Masters Cup and Knockout Cup.
Read : 6 Best Free Cricket Games For Android Smartphones/ Tablets
Real cricket 2016 offers real ball physics and Scintillating 2D Motion Captured animations. The game looks stunning when you play in the mobile, which got the Amazing and unique hand drawn graphics.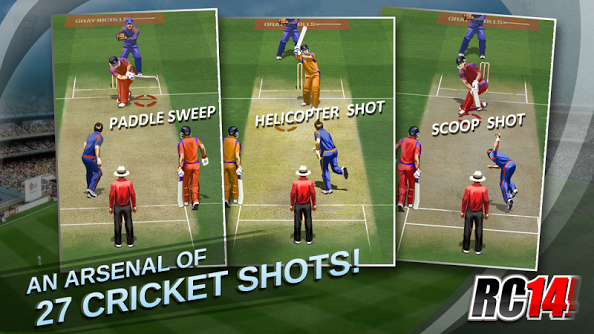 The Gameplay is like any other Cricket Game You have played in the past. However, in this game you can experience the high quality graphics with real ball physics. You can customize the game and tweak every part of the game to play your game. In this Game, You can build your own cricket team with players selected by you. You can also set the batting and bowling order of the team and Fielding Placements.
See Also : Watch IPL 7 T20 Live Streaming Online for free in PC& Android Phones & iPhone Officially
You can play the game easily and score more runs and take wickets with simple controls. It offers simple and intuitive controls that compel you enjoy the game with ease.
But this game has some known issues. It has some stability issues and lags in some Android devices. It takes more time to load which is quite annoying, Performance could suffer on some devices with less than recommended device requirements.  Some Users also complaints that it has some bugs crashed often. The developers need to fix these issues in the next update.
Play this game in Android Phone in this cricket season and Share your comments below.