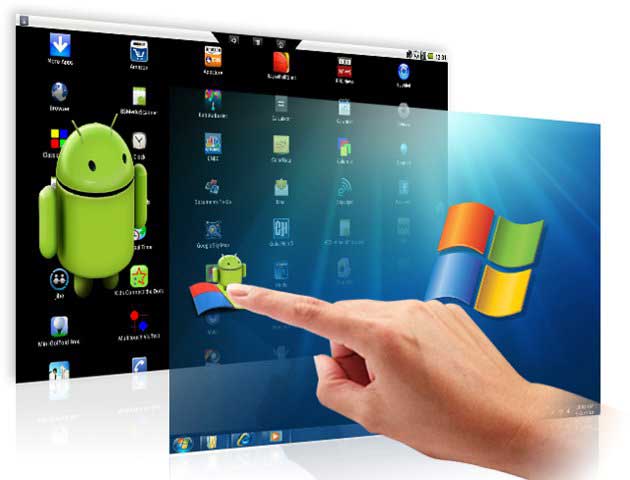 Are you wondering about How to run Android Apps in Windows PC and Mac? 'BlueStacks' has the answer for you. If you have Windows 8 or Windows 7 or Mac,  BlueStacks Android Emulator will run Android apps for you. Currently BlueStacks can run over 750,000 Android apps in Windows PCs and Mac operating systems. The software allows anyone to play any mobile app on a desktop, laptop or Windows tablet.
At the time of the original release, BlueStacks has some handful of Android apps to install in Windows systems like Fruit Ninja and some other. But  it can now also run any other off-the-shelf Android application as well. The technology behind the BlueStacks emulator is patent pending "Layercake" Technology.
Yesterday, BlueStacks announced that 'BlueStacks' powers  10 Million Large Screen Devices to get mobile contents. Many computer manufactures's like Lenovo, Asus, MSI have pre-bundled BlueStacks Software in their systems. In Feb 2013, BlueStacks for the Microsoft Surface Tablet was released. It has large user base in United States, Europe, Korea, India, China, Japan, Brazil.
The most popular application categories are the casual gaming, messaging and lifestyle apps. Also, there is healthy user base for many apps and games including top apps like Candy Crush Saga, Jetpack Joyride or Kakao Talk.
How to Run Android Apps on Windows 8,7  and Surface pro Tablet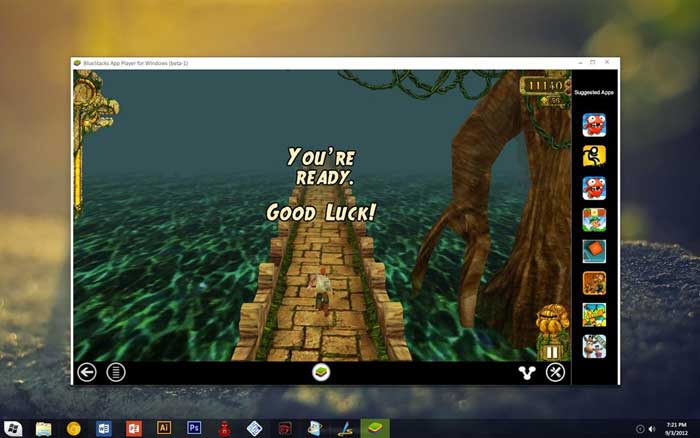 You can get BlueStacks from BlueStacks.com. There you can get the Windows 8 version and as well as older XP, Windows 7 versions. BlueStacks also runs GetYourAppsBack.com for Windows 8 computer alone to install BlueStacks.
However, BlueStacks won't install in many Window 8 devices and shows error like " Error 2500: BlueStacks doesn't support your graphic card. BlueStacks cannot be installed on this PC because the Graphics card is not compatible with BlueStacks.
I'm the one also got the above error in my Windows 8 Computer after upgrading from windows 7. But I've found the fix and installed the BlueStacks in my Windows 8. I'll write about the fix in the next post.
After the Installation, open the application and search for the Android apps. BlueStacks will ask you to connect to GooglePlay to Download Android apps. It also supports Amazon App Store to get your Favorite Android apps for your PC.
You can get all your installed apps in My apps section.
How to Play Android Games in Windows
Mouse clicks will replace the touch events in your System. For example, to play Temple Run in Android phone, you have to swipe up, but in computer click the screen -> use mouse down ->move the mouse up -> Release mouse button.
What apps would you use with BlueStacks in your PC and Tablet?