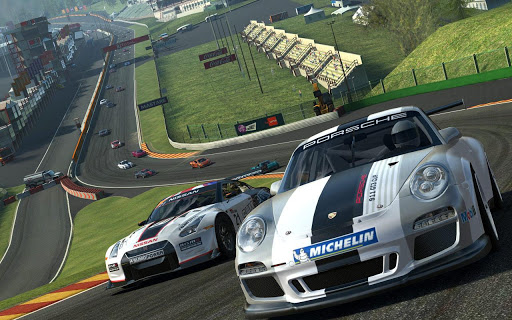 Do you love to Play the Car Racing Game in mobile? Now, of course you won't get the visuals of the these days, it's getting close. If you want the real life racing experience in your Android Mobile phone, install the Real Racing. This stunning Android Racing game has been developed by the Award-winning developers "EA Mobile"
Real racing is the most anticipated and best mobile racing game available on mobile devices. Real Racing 3 has been released by Electronics Arts' mobiles studio Firemonkeys to all Mobile Platforms includes Android, iPhone and iPad for free.
Read : Top 10 Best Car Racing Android Games Free Download [Phones/Tablets]
Real Racing 3 will be released as a freemium model, so you don't have to buy it for downloading and EA's probably rely on in-app purchases for monetization. Real Racing 2 in contrast costs $5. This freemium idea will push the smartphone users to download the game, but It is interesting to see how EA developers will put app-in purchases to users of Real Racing 3.
Real racing 3 brings the 900 events to feel the real racing experience and more than 600 hours of play. This has new cars, new tracks, innovative Time Shifted Multiplayer mode and lots more.
Trailblazing new features include officially licensed tracks, an expanded 22-car grid, and over 45 meticulously detailed cars from makers like Porsche, Lamborghini, Dodge, Bugatti, and Audi. Plus, racing with friends gets kicked into another dimension with the reality-bending Time Shifted Multiplayer™ (TSM) technology.
Powered by the remarkable new Mint™ 3 Engine, Real Racing 3 features persistent car damage, fully functioning rear view mirrors, and dynamic reflections for a super-enhanced racing reality. Enjoy a rich, next-gen game with the most advanced cross-platform social and competitive racing community ever. Real Racing 3 delivers it all.
EA Mobile has introduced the innovative Time Shifted Multiplayer which allows you to race with anyone in the world. Even if they are offline, their entire career event is filled with fully interactive and AI-Shifted time controlled version of the game.
Download Real Racing 3 for Android in Google Play
Download Real Racing for iPhone and iPad in Apple App store